Graduate School of Engineering
Introduction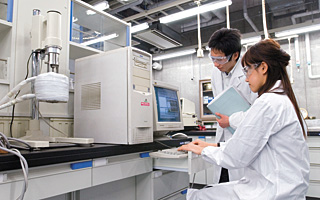 Offering six courses in 11 different fields to foster technicians and researchers to provide new avenues for social development through ecological 21st century technologies
Mechanical Engineering
Focusing on a wide range of mechanics ranging from the ultra large to the super fine, the course allows students to produce highly intelligent and reliable mechanical systems and trains technicians to achieve energy-efficient and environment-friendly creations.
Aerospace and Marine-System Engineering
With research that involves calculations and experiments using high-performance computers and cutting-edge facilities, the course cultivates talent to design and develop new-generation systems and technologies in order to use and protect marine, air, and space environments.
Electronics, Mathematics, and Physics
Pursuing new fields, such as nanoscience, based on electronic engineering, mathematics, and physics, the course fosters researchers to contribute to scholarly research and new industry creation by participating in advanced research activi- ties.
Electrical Engineering and Information Science
Fostering students'abilities to systematically understand and implement designs, plans, and operations with holistic knowledge of electricity, information, communication, and production, the course allows students to conduct a variety of research, such as research on elemental technologies for intelligent systems and large-scale systems.
Materials Science and Engineering
Creating and evaluating new materials with outstanding electrical, optical, chemical, or mechanical properties by analyzing the atomic- and molecular-level composition the course fosters students to become talented individuals who can contribute to the world of science and engineering with continued research in order to fabricate various materials.
Quantum and Radiation Engineering
The research field of the Division of Quantum and Radiation Engineering is the interdisciplinary frontier science and technology using ionizing radiation and characteristic beams such as ion beams and lasers, leading the advanced industry, medicine and nuclear engineering. We provide students with the basic and practical education using large-scale radiation and accelerator facilities in our university.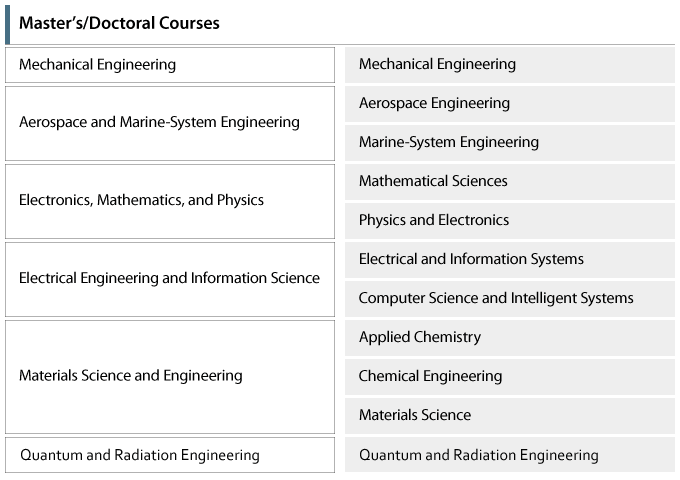 TECHNOVATION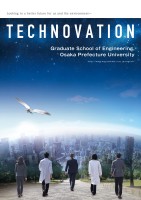 'TECHNOVATION' represents the school of engineering and the graduate school of engineering with top-level staff and up-to-date facilities for advanced science and technology.
Concept
Department of Mechanical Engineering
Department of Aerospace Engineering
Department of Marine System Engineering
Department of Physics and Electronics
Department of Electrical and Information Systems
Department of Computer Science and Intelligent Systems
Department of Applied Chemistry
Department of Chemical Engineering
Department of Materials Science
Department of Quantum and Radiation Engineering
Facilities