Graduate School of Nursing
Introduction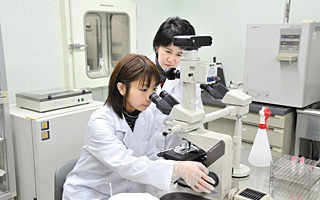 Training specialists with a higher level of advanced practical nursing and educational research abilities
Master's Courses
Masters courses comprise four different fields in 15 areas, ranging from Fundamental Nursing to Family Health Nursing. Certified Nurse Specialist (CNS) courses include three different fields in 11 areas, such as Adult Health Nursing.
Doctoral Courses
This area of study is organized into two specialized areas, fundamental education including Development of Nursing Theory and specialized education consisting of Nursing Science I and II. Researchers and specialists are trained to develop new knowledge and skills in nursing science.
Patient Education Center
Located in the Graduate School of Nursing building at Habikino Campus, the center provides the follow- ing services: scientific help and health promotion for people from the community; a variety of programs for different age groups and health problems; and consultation and information services.