Graduate School of Economics
Introduction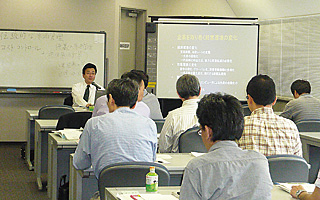 Engaging in the study of economics, management, and related laws to become competitive in these changing times
Master's Course
Economics/Business Administration/Tourism Management and Regional Design
In the Economics program, students explore the theoretical and empirical aspects related to economic issues and conduct research on policies. Business Administration students investigate the constantly changing business activities from the perspectives of management, accounting, and law.Tourism Management and Regional Design Program students conduct theoretical and empirical research on various phenomena of contemporary tourism from the interdisciplinary perspectives.
Doctoral Course
Economics
The course fosters specialists who can contribute to the development of a 21st century global society through creative research in the fields of economics, management, and law. Students who complete this course will be awarded a doctoral degree in Economics.
Master's Course
Namba Satellite Classrooms
These classrooms for students with an occupation are located on the 7th floor of the Namba Parks Tower. Students can take courses on the practical study of economics, management, and law under the guidance of various lecturers, including corporate executives and entrepreneurs
"Strategic Management/Judicial Affairs" Program (Business Administration MBA) Students study management organizational theory, management strategy theory, marketing, managerial accounting, financial accounting, and corpo- rate law.
"Public Policy" Program (Economics) Students study economic policies, social policies, international economics, finance, public finance, industrial economics, and law.
"Tourism Management and Regional Design" Program Students study tourism management, tourism marketing, urban tourism, hospitality management, international economics, sociology of tourism and regional and community design.