Graduate School of Life and Environmental Sciences
Introduction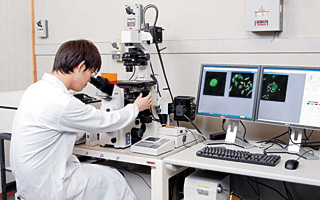 Providing specialized education in advanced bioscience for future technicians and researchers to become leaders of society
Applied Life Sciences
Aiming at the elucidation of life phenomena and the creation of applied technologies through innovative research on every living organism on earth, the course trains students to contribute to the development of useful resources through bioscience research.
Environmental Sciences and Technology
The course aims to foster students with abilities to develop advanced technologies and leadership for creating and protecting sustainable ecosystems in urban and green-space environments. Our graduates are provided with skills to contribute to the development of the local community and the promotion of environmental industries.
Veterinary Science
Leading the world in producing cutting-edge research at the Rinku Campus that is equipped with state-of-the-art facilities, the course aims to foster specialists with creative leadership in various areas such as advanced medical treatment for animals, food safety, communicable diseases between humans and animals, and animal biotechnology research.