Final Issue of the Student-produced OPU Social Responsibility Report
LastUpDate: December 24, 2021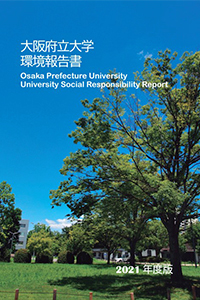 Since 2012, Osaka Prefecture University has been producing an annual environmental report from the perspective of students, now published as the "University Social Responsibility Report 2021". This is the tenth and final issue for Osaka Prefecture University.
The report is published in accordance with a law aimed at promoting environmental consideration. The most distinctive feature of this report is that it is written and edited by the Student Committee for Environmental Reporting (E(good)-campus-no-kai), to reflect the perspective of students. It introduces environmental activities conducted by this student group both on and off campus, as well as activities conducted in collaboration with local communities.
(Under the Law for the Promotion of Environmental Consideration in Japan, national universities are required to publish an environmental report, while public universities are required to make efforts to do so.)
University Social Responsibility Report
The 2021 edition, which introduces various activities related to the environment such as an introduction of OPU's efforts to promote SDGs taken up by students, also includes a retrospective of the university's environmental activities over the past 10 years. There is a goal to carry on and develop the report as the University Public Corporation Osaka in the following years.
Contents
Chapter1 Environmental Activities
Chapter2 Environmental Research and Education
Chapter3 Environmental Performance
Chapter4 Environmental Management
Related link
Contact:
General Affairs Division
Tel +81-72-254-9104