OPU Professor's Scientific Artwork Featured on the Cover of "Nano Letters"
LastUpDate: December 23, 2021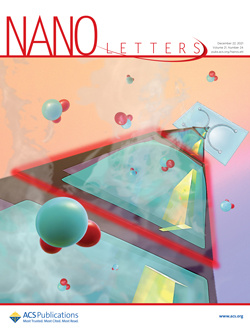 A scientific artwork by Associate Professor Yan Xu's group at Department of Chemical Engineering is featured on the cover of the academic journal "Nano Letters", along with the publication of their paper, titled "Fabrication of Nanoscale Gas–Liquid Interfaces in Hydrophilic/Hydrophobic Nanopatterned Nanofluidic Channels". Prof. Yan Xu with his colleagues Hiroto Kawagishi (doctoral student) and Professor Shuichi Kawamata of the Department of Quantum and Radiation Engineering coauthored the paper.
More information below
Contact:
Department of Chemical Engineering, Graduate School of Engineering
Dr. Yan XU
E-mail xu[at]chemeng.osakafu-u.ac.jp
*Please change [at] to @.