OPU Associate Professor's Art Work Selected as Supplementary Cover in "ACS Applied Materials & Interfaces"
LastUpDate: November 19, 2021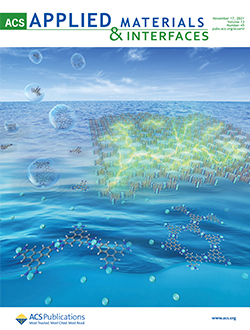 Art work by Associate Professor Rie MAKIURA on a paper entitled "Uniaxially Oriented Electrically Conductive Metal-organic Framework Nanosheets Assembled at Air/Liquid Interfaces" she recently published with colleagues Takashi OHATA (doctoral student) and Associate Professor Akihiro NOMOTO of the Graduate School of Engineering, among other collaborators, was selected as a supplementary cover in the academic journal "ACS Applied Materials & Interfaces".
The research group reported the first successful construction of uniform, electrically conductive nanosheets needed for next-generation sensors and energy production technologies, by utilizing a unique reaction with an air/water interface. The joint press release with Japan Synchrotron Radiation Research Institute and the University of Tokyo was released on October 28, 2021.
More information below
Contact:
Department of Materials Science, Graduate School of Engineering
Dr. Rie MAKIURA
E-mail r-makiura[at]mtr.osakafu-u.ac.jp
*Please change [at] to @.