Life in OSAKA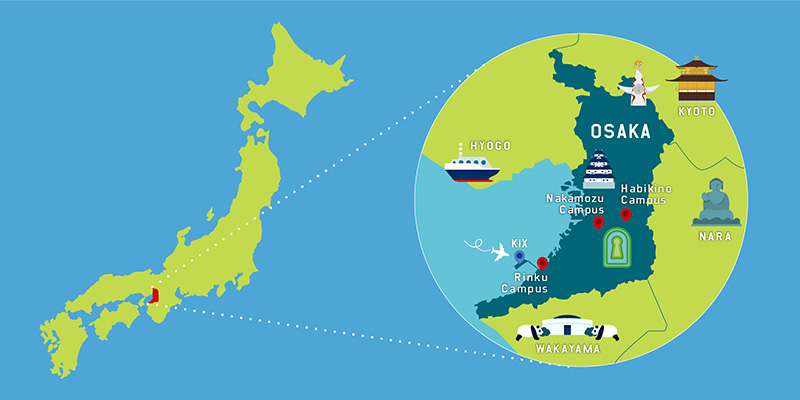 Location
Osaka is the second largest metropolitan area in Japan and is famous for its tourism, food and culture. Osaka Prefecture University (OPU) is located around the center of Osaka. OPU has three campuses in Osaka Prefecture. From Kansai International Airport, it takes about one and a half hours to get to the Nakamozu main campus and only 45 minutes by train or subway from the center of Osaka.
Tradition
Osaka is home to many historical buildings and traditional culture. Osaka Castle, the "emperors' burial grounds :mozu-furuichi tomb clusters" which has been registered as a UNESCO World Heritage List in 2019, as well as Ningyo Joruri (Japanese puppet theatre).
Food
Osaka is well known for its food. In the old saying, it is said that Osaka people are ruined by spending on food. Osaka has been a center of commerce since ancient times, and is known as the "Tenka no Daidokoro" ("Kitchen of the Nation").
Culture
There are many dialects throughout Japan. Among them, Osaka dialect, called "Osaka-ben", has its own characteristics. It has several words and phrases only used in Kansai region (Western Japan), and they contain unique nuances and meanings. The accent of Osaka dialect is also different from standard Japanese. Osaka is famous for "manzai (comedy duo)" or "conte (Sketch comedy)" and is known as the "city of laughter" in Japan.  Please enjoy communicating with people in Osaka by "Osaka-ben".
Future
In 2025, Osaka will host the World Exposition under the theme of "Designing Future Society for Our Lives".
(images: Provided by Japan Association for the 2025 World Exposition)
Information about OSAKA