Career Support
Career Support Office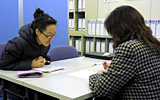 Information and advice are provided at the Career Support Office.
Online Information Service
The listed below are the useful Internet sites for job hunting in Japan.
Career Paths of international Students
Place of Employment
Message to Overseas Students from Graduates
The Voice of Graduate introduces the activities of graduates, student lives, and job huntings.